Now available for download in the app store. In this version, the app has been expanded with the offline registration of reviews. Scroll down for the Dutch version.
Get ready for some exciting updates to the FloraApp! We're always working hard to improve your experience and make it even easier for you to use our product. Here's what's new:
Say goodbye to the hassle of always having to be connected for reviews. With our new "offline mode" you are able to make reviews anywhere! We've made it seamless, so everything is automatically uploaded for you when you are connected again. Plus, we'll let you know with a message when you log out.
We know how important it is to have a great viewing experience when it comes to photos. That's why we've improved our sorting and added a full-screen view, so you can swipe through your photos with ease.
No more scrolling through your entire photo album to find the picture you want to add to your review. Now, you can select multiple photos directly from your album and add them to your review with ease. Furthermore, photos are now sorted so your most recent picture will always be on top!
Making a batch review? We've got you covered. Our improved batch information now shows the batch summary, so you can easily keep track of everything.
You asked, and we listened. Now you can display review types in any order you choose. Customize your experience and make it your own.
We hope you love these new features as much as we do. Keep your feedback coming, and stay tuned for more updates!
Short Summary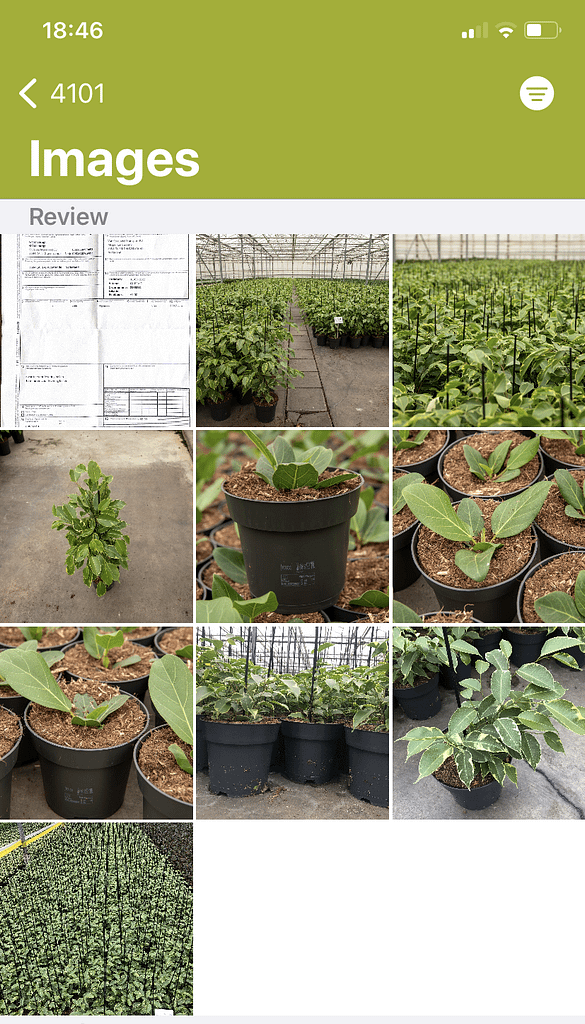 # Offline mode: When exiting the "offline mode" all ratings and accompanying photos are automatically uploaded. A message about this also appears when you log out.

# Improved sorting and full-screen view of photos. From now on you can swipe between the photos from this view.

# Photos are now sorted with the most recent photo at the top of the list.

# Multiple photos can now be added to reviews from the photo album on your device.

# Improved batch information on entering a review. When making a new batch review, the batch summary is now shown.

# Reviewtypes can now be displayed in a desired order.
Improved Reviewing, Photos, and Offline mode
Nederlands
Nu beschikbaar om te downloaden in de app store. In deze versie is de app uitgebreid met offline registratie van reviews. Scroll naar boven voor de engelse versie.
Maak je klaar voor spannende updates voor de FloraApp! We werken altijd hard om je ervaring te verbeteren en het nog gemakkelijker te maken om ons product te gebruiken. Dit is wat er nieuw is:
Zeg vaarwel tegen de moeite van altijd verbonden moeten zijn voor reviews. Met onze nieuwe "offline modus" kun je overal reviews maken! We hebben het naadloos gemaakt, dus alles wordt automatisch geüpload zodra je weer verbinding hebt. Bovendien laten we je weten met een bericht wanneer je uitlogt.
We weten hoe belangrijk het is om een geweldige kijkervaring te hebben als het gaat om foto's. Daarom hebben we onze sortering verbeterd en een full-screen weergave toegevoegd, zodat je gemakkelijk door je foto's kunt swipen.
Geen eindeloos scrollen meer door je hele fotoalbum om de foto te vinden die je aan je review wilt toevoegen. Nu kun je meerdere foto's direct uit je album selecteren en ze gemakkelijk aan je review toevoegen. Bovendien worden foto's nu gesorteerd zodat je meest recente foto altijd bovenaan staat!
Maak je een batch review? Onze verbeterde batch informatie toont nu een samenvatting van de batch, zodat je alles gemakkelijk kunt bijhouden.
Nu kun je de reviewtypes in elke gewenste volgorde weergeven. Pas je ervaring aan en maak het jouw eigen.
We hopen dat je net zoveel van deze nieuwe functies zult houden als wij. Blijf je feedback geven en blijf op de hoogte van meer updates!